Ferry To Tasmania: Everything About The Geelong To Tasmania Ferry (Previously Melbourne)
Note: As of October 20, 2022, the Spirit of Tasmania departs from Geelong.
We love the ferry to Tasmania. Each year we jump on the motorbikes and spend a week riding around the amazing roads and meeting the friendly locals.
Nothing beats the thrill of driving onto a large ship and beginning your journey. All of us enjoy exploring the ship's facilities and making the most out of our journey. It's convenient to take your car on the car ferry Tasmania, especially if you have young children.
This guide will help you plan your ferry trip to Tasmania. We have included all the information that you'll need, including how to book your ticket, what to expect onboard the ship, and the actual journey.
This article should answer all your questions regarding the ferry from Geelong to Tasmania so you can plan your journey.
Why Take A Ferry To Tasmania?
You have two choices when it comes to getting to Tasmania from the mainland – either you fly or take the Spirit of Tasmania.
Before having children, I flew all the time. It's quick (under an hour), inexpensive and convenient, as I can be picked up by my family or rent a car at the airport. The Tasmania boat trip, however, is much more convenient with kids.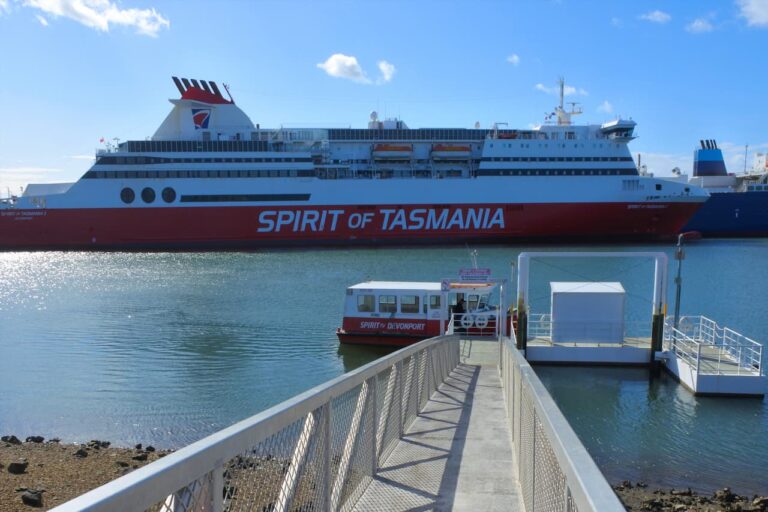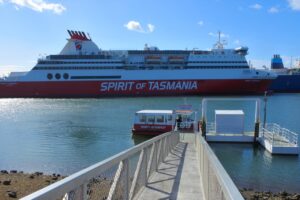 The cost of hiring a car in Tasmania is astronomical, especially if you bring car seats or excess luggage. You can travel to Tasmania on a ferry and enjoy the convenience and comfort of your own car. Plus, you don't have to pay extra for excess luggage.
If you plan to travel outside of Hobart, you will need a vehicle. You'll have to rent a car if you plan on flying.
The Australia to Tasmania ferry does not arrive in Hobart.
What is the location of the ferry in Tasmania? The ferry docks in Devonport, which is a small town on the North West Coast, about a 3-hour drive from Hobart. This is the best option for those who are planning longer trips or want to travel outside of Hobart.
We visit up to one week. The Spirit of Tasmania costs less than flying for us. Plus, we love the convenience.
It's a great way to travel, and it is convenient! There are both day and night sailings on the vehicle ferry from Tasmania, with plenty of amenities to keep you and your kids entertained.
Spirit of Tasmania Ferry – An Introduction
Melbourne Tasmania has always been popular, and this is especially true since the introduction of RORO ships (roll-on/roll off) – which allow you to drive on one side while driving off the other. I'm confident that the new ferry service departing from Geelong will not affect this popularity.
The car ferry Melbourne-Tasmania ships departing Geelong are the fastest and most comfortable ones to date.
Two boats operate the route – Spirit of Tasmania I, and Spirit of Tasmania II. Both ships are almost identical. They both weigh over 28 tonnes, measure over 194 meters long and can accommodate 1400 passengers or 500 vehicles.
These two ships are fast and reliable and offer both day and night sailings during peak periods. In 2015, the ships underwent major renovations that resulted to a fresh and modern look as well as increased passenger comfort.
What is the Check-in Process?
The check-in process for the Tasmania Ferry from Geelong can be done very easily. You can follow the signs to North Geelong if you are taking the Spirit of Tasmania Quay ferry from Geelong. There's usually a long line of cars.
Check-in is open 2.5 hours prior to sailing. Please note that the check-in closes 45 minutes prior to sailing.
We have always had a smooth check-in. You can check-in from your car. Just drive up to the window, present your documents and receive cabin or ocean recliner keys (if you own one).
You will be asked to drive to a quarantine inspection if you depart from Geelong. This is to ensure that you do not have any prohibited items such as fruit or vegetables. It's always very easy and quick, but they ask for a look at any eskis you are carrying so make sure to have them readily available.
While you're waiting to board, you will be directed where to park. You then proceed to the vehicle deck. It has never taken more than 30 minutes for us to board. There are always people on hand to guide you.
When you leave, pay attention to the colour and level of the stairwell you parked in. The Geelong terminal has a kids play area.
How long is the Geelong to Tasmania ferry?
The ferry time to Tasmania depends on the season you travel. When the ferry timetable is followed, crossings during summer take about 10 hours, and crossings in winter take more like 11.25 hours.
The Spirit of Tasmania offers day sailings from Geelong, Australia to Tasmania between September and April. These are cheaper because you do not need to buy a seat or cabin.
The day cruises would be boring for me if I was alone. With kids, it's actually better. I can relax and they have plenty to do. Summer night sailings are harder because the excitement is too much for kids, and you can't leave until 9pm.
If you're looking for a good night's sleep, I suggest avoiding summer night sailings.
Timetable for Ferries from Geelong to Tasmania
Spirit of Tasmania operates both day and night sailings between September and April. The ferry leaves at 10am to arrive in Devonport by 8pm on day sailings and departs at 9pm to arrive at 7am on night sailings. These times can vary from day-to day, so check.
The ferry Tasmania schedule for the rest of the year begins at 6:45pm. Both the ferry from Tasmania to Geelong and the ferry from Geelong to Tasmania arrive at 6am each morning the following day.
Disembarkation
The easiest part of your trip is to disembark the ferry. A wakeup call is given about 45 minutes prior to arrival in Tasmania. The first round of calls is made to certain vehicle decks, then the second round.
You simply have to wait for the instructions to leave your car. You will need to go through a biosecurity inspection when you arrive in Tasmania. This is similar to the one you would have to pass at Geelong.
Spirit of Tasmania – A Cruise onboard
Exploring the facilities of the Tasmania Geelong ferry is one of the most thrilling parts of the trip. Even though there is limited time for exploration on a night sailing, day crossings offer plenty of activities and attractions.
The Facilities
The Spirit of Tasmania has a variety of facilities, including two cinemas and a game zone for kids, a reading area, tourist center, pokies and activities, and live music.
Both cinemas, located on the 7th deck, show different recent releases. It's a good way to kill time while on the ferry from Tasmania to Geelong. There are both adult and children's movies to choose from. Tickets cost $10 for adults and $5 for kids.
On deck 7, you will also find the tourist centre. This is a great spot to visit as it has so many brochures that give you ideas on what to do in Tasmania. This deck also has a reading area, which is a great place to relax with a good book or iPad.
The upper decks have more seating, and a kids' game zone on deck 9, with arcade-style games. There is also live music at the Terrace Lounge Bar.
Our favourite place to relax is the Top Deck Lounge, located on Deck 10. We loved this area, which is located near the children's play area and has a beach-style decor. It was our favorite part of the ship. Deck chairs are available with a sea view and plenty of drinks.
Deck chairs are in high demand during busy daytime sailings, so be sure to get there early if you're interested! A gaming station with Xbox games is also nearby.
Summer offers more activities for kids on day cruises, including face-painting and entertainers.
Book a crossing during the day to get the best out of your trip. We were disappointed with the short night crossings because we had to board so late to put the children to bed and disembarked early the next morning. Not everything is open if you take a late-night crossing.
Food
While food isn't included in the ferry fare, you can still get it.
We eat before night sailings if possible. When you have kids who need to go to bed and need to get up early in the morning, there's not enough time for a nice meal. During day sailings there is plenty of time to enjoy the food.
TMK (Tasmanian Market Kitchen).
The main restaurant is located on the 7th deck. It's called the TMK, or Tasmanian Market Kitchen. It is a self-serve buffet, where you can choose from a variety of mains and side dishes. A dinner roll and a drink are also included. The food is tasty and of high quality. Desserts are available at an additional cost.
Food isn't super cheap but it is good value. The price for adults is $27.50. Children under 15 years old cost $15. Children under 10 cost $10. And children under 5 eat for free. Breakfast, lunch and dinner are served.
It is not always available for dinner if you are crossing late at night. When we left Geelong recently at 10:30am for a day crossing, the restaurant was open for breakfast, lunch, and dinner.
Bar 7
On deck 7 you will also find Bar 7. The bar is lively and offers a variety of drinks, including Tasmanian beers, wines and spirits. There are also non-alcoholic drinks like tea, coffee and juice. The Admirals Gaming Lounge, which is nearby, also offers comfortable seating.
Terrace Lounge Bar
On deck 9, you can also find the Terrace Lounge Bar, which is a comfortable area to sit. They serve pizzas, paninis and burgers on day cruises. There is also a large selection of drinks available, both alcoholic as well as non-alcoholic.
Top Deck Lounge
The Top Deck Lounge, with its comfortable deck chairs and close proximity to the children's play area, is our favorite part of the ship. There are a variety of drinks available here, including beer, wine, spirits, soft drinks and juices, as well as snacks such pizza, ice cream and toasties.
The Pantry
The Pantry, the onboard store, is a great place to buy quick and easy items like drinks, sandwiches, snacks and souvenirs.
Cabins
The cost of the ferry from Geelong is not inclusive of cabins, and you don't have to buy one. Even if you are only doing a day trip, I would recommend a cabin. It's not much more expensive and you can relax in peace during the day.
On a day trip, the seating on board is quickly full.
You will either need a recliner or a cabin for night sailings. Below are the options.
Deluxe Cabins
The top-of-the line cabins have a queen size bed, a nice sized bathroom, tv, and refrigerator. The cabins have plenty of space to relax and are equipped with 2 portholes. They also offer room for two cots. Towels, linen and pillows are also included. These are also the most expensive cabins, but they're the most comfortable.
I would choose this option if you could book for 5 people. The extra space is much more valuable than extra beds.
Porthole Cabins
The porthole cabins are available in 2 or 4 births. These cabins are comfortable and simple with a desk. They also have a small bathroom. One cot can be stowed in this space, but it's a tight squeeze.
For day trips, I'd recommend a cabin with a porthole to enjoy the view of the ocean. However, there is not much room to store extra luggage. Included are linen, pillows and towels.
Inside Cabins
The cabins are more spacious, but lack the porthole. They can sleep up to four people. The rooms can accommodate up to two cots.
It's my favorite option for a sailing at night, when it is too dark to see out of the porthole. They include the same amenities as before: a desk, an ensuite, towels, linen, and pillows.
If you are travelling alone, there is also the option of a shared cabin for men and women.
Ocean Recliners
Ocean recliners offer the best value for money. The recliners are located at the back of the boat in a quiet area with a view of the sea. They're comfortable and convenient. The chairs recline, have USB ports and trays tables. Blankets are also provided for night sailings.
They can be uncomfortable to sleep in because they do not recline completely. Even though the lights are dimmed, they're not completely switched off.
Take Your Car
It is easy to take your car with you on Spirit of Tasmania. When you make your reservation, simply add the car to your booking.
You simply need to drive onto the vehicle deck that matches your colour.
Remember the color of your vehicle's deck and doors so that you know where to go to get back in! Since you won't be able to return to your vehicle during the trip, it is important that you bring all of the items you may need.
It is important to note that passengers who are on a certain vehicle deck will be told to drive away first and return to their car before arriving.
Take the Ferry Tasmania to Geelong with Kids
The Geelong Tasmania Ferry is a great way to spend time with your kids. It's easy and fun. I've done it with my kids many times and we have had a great time.
It's hard for kids under 10 to sleep enough to feel rested when they're on an overnight trip. If your kids are anything like mine, you'll have a hard time getting them to sleep when they board the ship. Then they will need to wake up early.
Onboard, there are many facilities to assist with children such as the playground, games area and cinema. The kids love to explore the ship. The novelty of the boat does not fade, even after many trips. It's fun.
I would recommend getting a room, whether you travel at night or in the day. On a day trip, it can be crowded on the boat and you (and your kids!) You'll need a place to relax and regroup. You'll want to be able to relax at night knowing that your children are nearby so you can sleep.
I don't think it makes sense to get an outside cabin at night with children. However, if you are crossing during the day I would highly recommend one.
If you're travelling during a period when day crossings are possible, I suggest doing two crossings of the Geelong-Devonport ferry at night and at day. We always do this and it gives us different experiences.
Also, you can get cots that are smaller for the younger children. More information is below. It's great that when we needed a larger cot, we were always given one with a larger cabin.
I have only one other comment. Last time we went on the Spirit in the evening, a member of staff actually reprimanded me for having my kids dressed up as we walked from our car to our cabin. I was shocked!! It's not a typical situation for us and I hope it's not your experience.
Ferry To Tasmania Cost
A ferry Tasmania fare, while not cheap by any means, is still a bargain when compared to the cost of flights and rental cars.
You will need to pay for the tickets (adults have higher prices than children 3-15 and kids under 3 are free), your vehicle, and any cabin/ocean chairs.
Day sailings are usually the best fares for ferries to Tasmania during the period of September to April. Cabins are not necessary, but they can be purchased for a lower price. They're also great to relax in (especially when you have young children).
What is the cost of the ferry to Tasmania? The lowest price for a ferry to Tasmania I could find was comfortably below $1000. This is the return fare for a family of five on a day cruise with a cabin and a car. I could easily spend more than this for flights for five people and a rental car in Tasmania, where the prices are skyrocketing!
With a good cabin, and a night sail during a busy period, I can also double that.
Overall, I believe the cost of ferrying to Tasmania for our family is reasonable, especially when compared with flying. It's best to book in advance because prices do increase during peak times. For December/January, I book at least 11 months in advance to get the best prices. If you don't plan ahead, it will sell out and become quite expensive.
How to Book a Boat to Tasmania
Booking online is very simple.
Here you can book the Spirit of Tasmania.
If you book your ferry ticket to Tasmania more than 11 months in advance, you may cancel it for free up to 48 hours before departure.
Devonport Ferry Terminal Tasmania
East Devonport is the terminal for the ferry Devonport-Geelong.
If you want to walk around the area, there is free parking on The Esplanade. There's also a nearby petrol station. There's not much else to do.
Geelong Ferry Terminal
The terminal was previously located in Port Melbourne. However, now you can only catch the ferry from Geelong. The Spirit of Tasmania Quay is located at 136 Corio Quay Rd in North Geelong.
Geelong has a new ferry terminal. The terminal has a seating area for passengers, a kids' play area, sanitary facilities, sheltered parking, and a cafe. The facilities are much better in Port Melbourne, although I miss the shorter distance.
The car is smaller than I thought, but it's still a good size. You can get out and walk into the terminal to wait for your flight.
FAQs
How can I get a cot for my baby/toddler?
You can easily get a cot, if you require one. They will provide one for free when you add a baby (under 3 year old child) to your reservation. However, you will need to provide your own bedding.
Spirit of Tasmania recommends that parents who need cots choose inside cabins, which are larger and can accommodate up to two cots. The Deluxe cabins are also able to accommodate 2 cots. Cabins with portholes can only accommodate 1 cot.
What is the maximum amount of luggage allowed on board?
Carry-on luggage is not restricted for those who have their own car. However, for those without a vehicle the allowance is one medium-sized suitcase measuring 66 cm x 46 cm x 27cm with no weight restriction.
There is no need to bring anything onboard, as the cabins and ocean-recliners are well-equipped and there is a wide variety of food available.
What if I don't have a cabin?
You can rent a locker to store your valuables on board. The lockers are near the entrance of the ocean recliners. They aren't huge, but they have enough room to store a small bag and other items. A fee is charged to rent one.
Does Wifi Exist?
Onboard Wifi is offered, but at a price – as much as $20 per crossing. The cabins are not equipped with wifi, so you'll only be able to use it in public areas. You can watch free TV online using the free streaming wifi.
Will I get seasick?
Is it rough?
Bass Strait is a rough stretch of water. If you're prone to motion sick, I would recommend bringing tablets. They are available onboard, but it is always best to purchase them before travel.
We have not experienced any major motion sickness on these ships, and they are very stable. If you want to minimize the effect, an inside cabin is available. When I lay down, I feel like I am being shook to sleep.
The night crossings are definitely more difficult than the day crossings.
Can pets travel on the ferry Geelong to Tasmania?
Please note that this is subject to change, so please check for the most recent rules.
Yes! Pet kennels are available on decks 3, 5 and 6. Booking a pet kennel is possible at the time you book. Different sizes are available. You must show proof that your dog has been treated for hydatid worms at least 24 hour before departure.
You cannot visit your pets on the ship, but staff will check them regularly and give them water. As bedding is not provided, you will also need to bring your own.
Please note that some animals are not permitted on board.
Can I tow a caravan or trailer?
Yes. You can add this when you make your booking. Just note that there is an extra fee.
What can I not bring with me to Tasmania?
Tasmania has strict rules on what you can bring in and what you cannot. All fresh fruit and vegetables, fish, seeds and bulbs are prohibited.
You will be checked when you cross the border. I can't remember a time when I didn't have my car checked by a dog that was trained to detect such items.
is worth checking out here to get a complete breakdown. But the best advice that I can offer is to leave your fresh produce and food at home.
Final Words
Spirit of Tasmania has to be our favourite way to visit Tasmania. The Spirit of Tasmania is convenient, fun and affordable (compared to the cost of flying for us). We can leave the car in Tasmania and then pick it up when we arrive. The shorter night crossings during peak season can be more difficult due to lack of sleep. However, I still like the option to drive to Tasmania by ferry.
You should definitely go if you are considering a boat trip to Tasmania and have more than a couple of days to spend exploring. It's a trip that I don't think anyone will regret.